Plastic bags, plastic water bottles, plastic wrapping, plastic toothbrushes, plastic straws… There's plastic everywhere. Today, we at PURE WATER encourage your to reduce your plastic use. Get started now!
Bring your own shopping bag.
This is a quick win. Get yourself a couple of nice, canvas tote bags and you're all set. From now on, you can always say no to plastic bags.

Stop using plastic straws.
Saying no to plastic straws at restaurants and cafes might sound a little odd in the beginning, but you will save so much plastic by doing it. If you like using straws at home, get a few glass or stainless steel ones. You can easily wash and reuse them.

Say no to plastic cutlery.
Getting takeout tonight? Say no to plastic forks, knives and spoons and use your own cutlery. A quick win with great impact.

Invest in a water bottle and reusable coffee cup.
By getting your own water bottle you never have to buy water in plastic bottles anymore. Your own coffee cup will help you avoid the plastic lids that come with your to-go coffee. Some coffee shops even give you a discount if you bring your own cup.

Be mindful at the grocery store.
Are you going grocery shopping today? Why not make it a plastic-free adventure? At this point, you might already be bringing your own bags, but there's more you can do. Try avoiding plastic by skipping the small plastic bags for fruits and vegetables, getting a fresh juice in a glass bottle, buying wooden or bamboo toothbrushes, or buying bread in paper bags instead of plastic ones.


Store your foods in glass or cloths.
Glass jars are perfect for storing nuts, seeds, leftovers and many other foods. Another thing you can do is use beeswax coated cloths (try the local health food store) for wrapping sandwiches.


Shop at your local stores.
Instead of buying things online, go to your local stores. The things you buy online usually come with a lot of unnecessary wrapping made from plastic, bubble wrap or other plastics to protect what's in the box.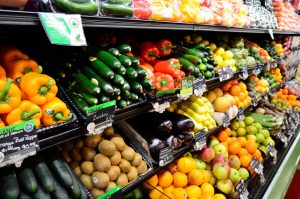 We all know how hard it is to avoid plastic altogether. These seven ideas will help you get started. Get creative and start using less plastic today. Have fun!
Do you want to take a step towards making your office plastic-free? Start with water. With PURE WATER there's no need for plastic water bottles at the office anymore.