We can finally share the news with you all today: our new PURE WATER filters are here!
We've been working closely together with the experts at European WaterCare, the UK manufacturer at the forefront of water treatment technology, on developing a custom-built series of filters, uniquely designed for PURE WATER, and we're excited to present them to you.
Why a custom-built filter?
We at PURE WATER believe that it's our responsibility to make good water great. The water that comes out of the tap here in the Nordics and the UK is good and is safe to drink, but we take it to the next level by filtering out much more microplastics, heavy metals and bacteria than your local water company does, and we improve the taste and smell by removing chlorine and sediments.
We always set the bar extremely high for ourselves, and we stay on top of new technologies and solutions. To deliver the highest quality of water and get closer to our PURE FUTURE vision, we started looking into a new water filter for our customers.
Our CEO, Carsten Albæk, explains: "Our ambition is always to serve the highest quality of water and to be the best in the industry. Therefore, we have been in several rounds of discussion with various filter suppliers to find the best solution. However, great water quality is not enough for us. Following one of our four core values, PUREliving, we put sustainability at the forefront of everything we do, so being able to recycle the filters was a critical point for us when we chose to work with European WaterCare."
Steve Slark, CEO at European WaterCare, adds: "We are very experienced in developing filter systems for a specific need, so we are super excited to meet this PURE WATER challenge and offer a market leading standard for filtration with this new filter series. Together, we've developed a water filter that no one in this business was able to offer before."
What are the advantages of the new PUREfilter?
Highest standard dual filtration system available
This brand-new filter has a dual filtration system that consists of a 0.2-micron membrane and the advanced carbon matrix block. Steve Slark explains: "Did you know a micron is 0,001 millimetre, so 0.2 micron is 0,0002 mm? Our eye can't see objects that are smaller than 40 microns, so this filter truly is amazing." The membrane filters out a great number of microplastics, viruses and bacteria, and the carbon insert removes asbestos, heavy metals, such as copper, iron, lead and aluminium, chlorine and sediments.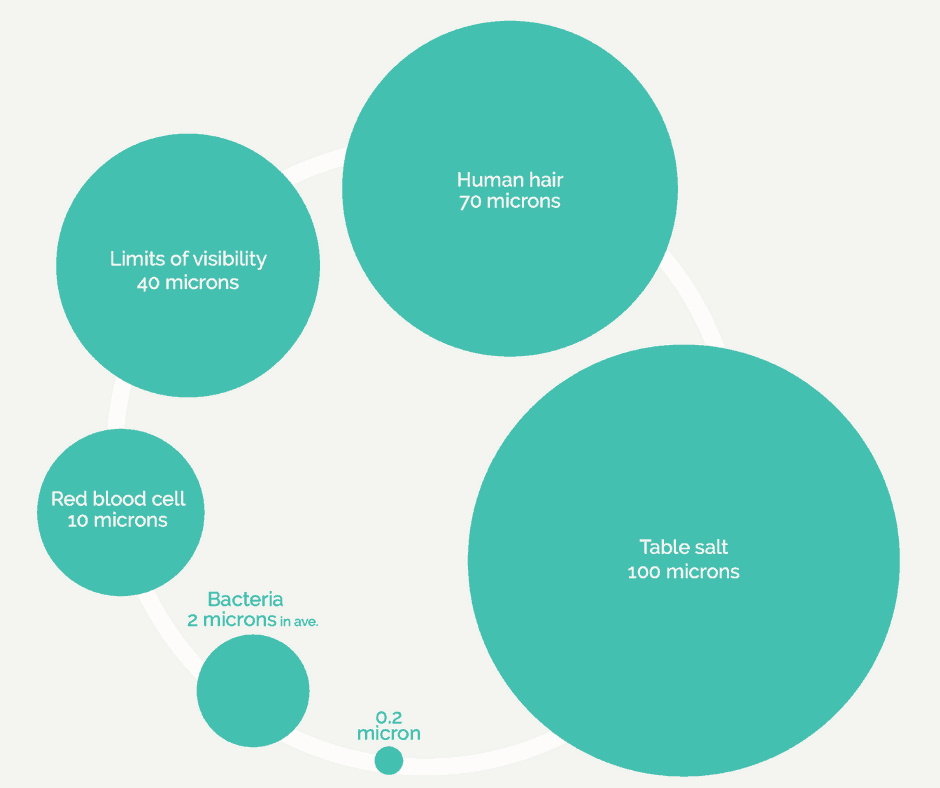 Three variations of water filters
The water filter comes in three variations to suit your needs.
PUREfilter – This is the standard PUREfilter with 0.2-micron and an advanced carbon matrix block for the finest dual filtration. Your water tastes better after this fine filtration process.
PUREfilter polyp – This filter does the same as the PUREfilter, but also reduces the scale.This filter is excellent for use in areas with hard water.
PUREfilter ion – The special ion exchange filter for scale removal is for those of you using boilers for the installation. It will be installed in addition to the PUREfilter to ensure scale-free water for your boiler.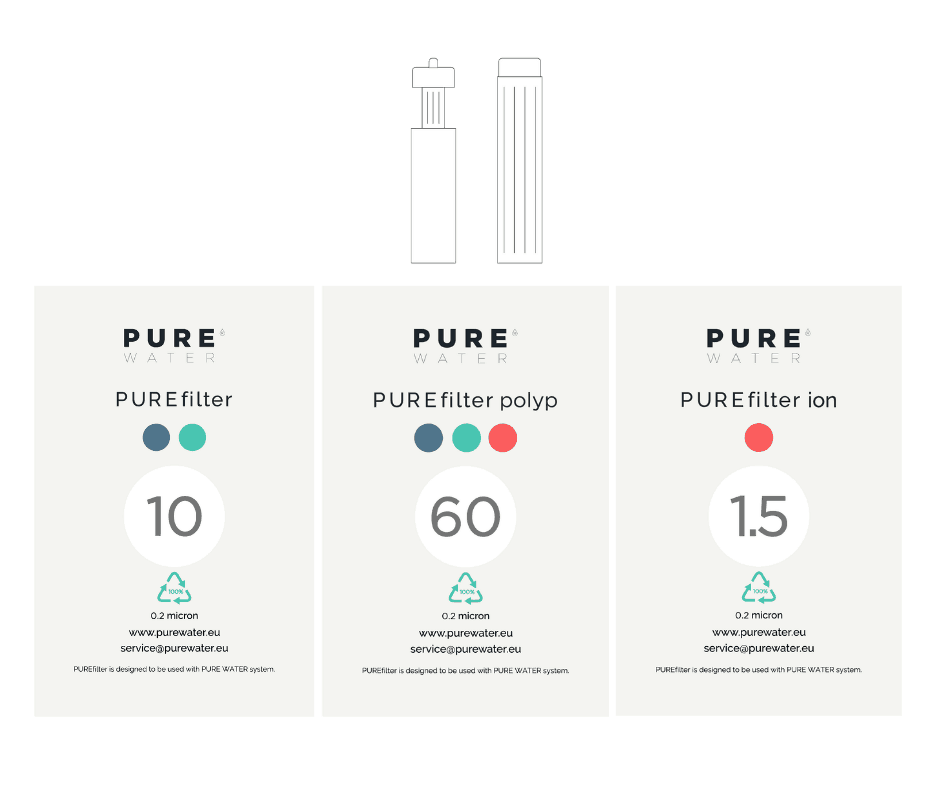 100% recyclable filter
We stay true to our vision and love helping companies join the PURE FUTURE. That's why we're so proud of the fact that the new PUREfilter range is 100% recyclable.
When it's time to replace the water filter, we take the insert out and replace it with a new one. The used filter will be returned to European WaterCare, where they take the filters apart and separate the different filter parts before being recycled.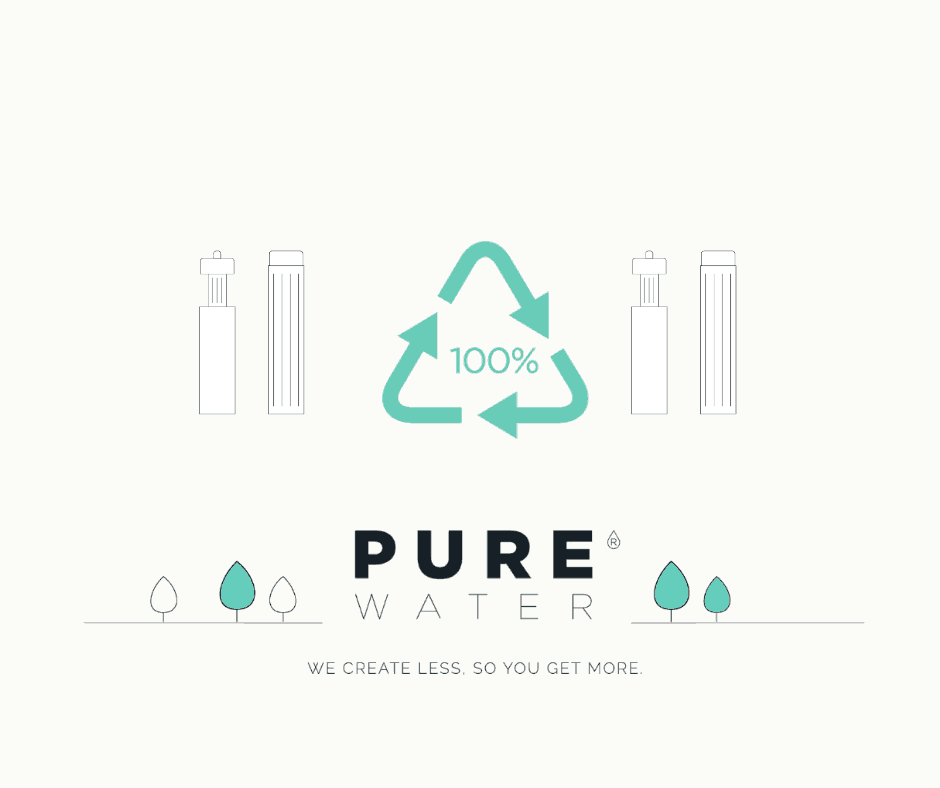 How do I get the new water filter?
If you are a PURE WATER customer, we'll install the new filter for you at your next filter change service appointment. Are you new to PURE WATER, and do you want to learn more about the right water filter for your company? Our water experts help you select the right filter for your company. Get in touch today and be among the first to try our new filters!